Powered by
House Cleaning London Ltd.
Call us now on:
Home > Croydon
Leather Cleaning Croydon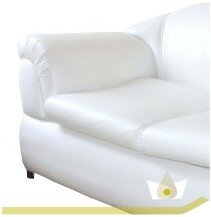 We at Croydon Cleaners London know that good maintenance is essential to a good looking piece of leather furniture. It is important to eliminate any dirt and oils in a timely manner to prevent degradation of the upholstery's protective layer and help maintain its moisture balance, which otherwise in some cases may even grow mould, if left unattended. This prevents premature deterioration of your furniture's overall look and feel and greatly increases its lifespan by making the leather more supple, resilient and less likely to absorb spillages.
Cleaning leather normally requires great amounts of care in order to avoid any risk of damage, and different types of cleaning products are appropriate for different types of leather, which may become somewhat confusing. That's where our long years of experience may come in handy. Our expertise cleaning professionals are fully trained to handle any type of leather for you, so you don't have to worry about causing anything undesirable to your furniture. All of our leather cleaning services are performed on site, so the utmost care is taken and we exclusively apply only the highest quality bio-degradable products best suited to your specific type of leather upholstery, thus eliminating as much of the risk of damage as possible.
We also recommend the application of stain protection solution, commonly known as Scotch-guard, following any professional hot steam or dry leather cleaning. All our cleaning technicians are equipped with a variety of stain protectors to suit every fabric type, and will perform a thorough application of stain protector upon request. The use of a stain protector will improve the longevity of your furniture, and will dramatically increase the interval before another professional cleaning is needed.
Prices start from £19.00 per armchairs, minimum charge applies.
If you require more information or a quote, or if you would like to book a leather cleaning appointment with us, please give us a call on or send us your request via our Booking form and our friendly office staff will happily be of assistance.
You can also order scotchgard protector application on the leather furniture in your property.
Here you can find some more information about the Scotchgard Protector service we offer.
We also offer leather cleaning in the following areas:
Leather Cleaning in SM2 Cheam
Leather Cleaning in SM7 Banstead
Leather Cleaning in SE20 Penge
Leather Cleaning in SE26 Sydenham
Leather Cleaning in SW1 Westminster
Leather Cleaning in SW1 Belgravia
Leather Cleaning in SW1 Pimlico
Leather Cleaning in SW1 Victoria
Leather Cleaning in SW2 Brixton
Leather Cleaning in SW2 Streatham Hill
Leather Cleaning in SW3 Chelsea
Leather Cleaning in SW3 Brompton
Leather Cleaning in SW4 Clapham
Leather Cleaning in SW5 Earls Court
Leather Cleaning in SW6 Fulham
Leather Cleaning in SW6 Parsons Green
Leather Cleaning in SW7 South Kensington
Leather Cleaning in SW8 South Lambeth
Leather Cleaning in SW8 Vauxhall
Leather Cleaning in SW8 Nine Elms
Leather Cleaning in SW9 Stockwell
Leather Cleaning in SW11 Battersea
Leather Cleaning in SW11 Clapham Junction
Leather Cleaning in SW12 Balham
Leather Cleaning in SW12 Grove Park
Leather Cleaning in SW12 Lee
Leather Cleaning in SW13 Barnes
Leather Cleaning in SW14 Mortlake
Leather Cleaning in SW14 East Sheen
Leather Cleaning in SW15 Putney
Leather Cleaning in SW15 Roehampton
Leather Cleaning in SW15 Kingston Vale
Leather Cleaning in SW18 Wandsworth
Leather Cleaning in SW18 Earlsfield