Powered by
House Cleaning London Ltd.
Call us now on:
Home > Croydon
Expert painters in Croydon!
The impeccable condition of walls and ceilings is very important for the aesthetic appearance of your property. Therefore professional plastering and painting with high-quality and durable paint are mandatory. In order to enjoy gorgeous final results and to avoid disappointment, homeowners should always rely on trustworthy Croydon painting contractor. If you rely on Croydon Cleaners London for your Croydon property painting project, you are guaranteed to get flawless performance. Professional skills and knowledge should never be underestimated when it comes to painting and plastering. For this reason, take advantage of our convenient and reliable painting services in Croydon.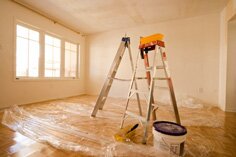 In case you have bare walls and ceilings, that have never been painted before, our Croydon painting experts will apply some additional layers of paint. This procedure comprises more preparations, but you should not worry at all. For your convenience, all the expenses for the preparative materials (sandpapers, dust sheets, tape, filler hardeners) are included in the final price offer. Clients have to be also aware, that our residential or commercial painting service Croydon may comprise efficient plastering or removing wallpapers.
Paint, that is used for our interior painting Croydon is durable and has guarantee for the best quality. There is no doubt, that marvellous final results are achieved not only thanks to expert skills, but also with professional tools and supplies. As an experienced painting contractor in Croydon, we always rely on high-standard products and machinery. White paint for our painting services Croydon is usually provided by our experts. They will ask for your final confirmation regarding the brand of the paint. Clients will be informed about the various types of paint and their prices on the market. When color paint is necessary for the Croydon interior painting, our specialists may deliver it again as they won't forget to show you the receipt.
Call us on and ensure yourself professional and convenient commercial or residential painting service in Croydon! Save your time, efforts and avoid disappointment of unsuccessful DIY projects! Hire us, because we are dependable and experienced painting contractor Croydon!
Entrust your Croydon painting to our certified specialists!
Learn more about the features of our Croydon painting services and take a decision, based on detailed and precise information:
An examination in advance is always provided by our experts. This way our professionals will be aware of the moment condition of the premises. They will define all the necessary preparatory materials, tools and supplies. On the day of the booking, our Croydon painting professionals will be prepared with everything, that is necessary. The profit for customers is that they get precise and profitable price offer, based on this preliminary expert visitation. The view is provided according to your personal schedule and availability.
During all these years of hard work and striving for excellence, Croydon Cleaners London has met different types of customers - landlords, property management companies, business holders, ordinary homeowners, etc. All of them have been treated with the same level of respect and personal attention. Every property is different and every clients has various renovation ideas and preferences. Therefore, the commercial or residential painting service Croydon, that you book, will be specially tailored to suit your individual needs.
When you hire us for your painting contractor Croydon, you will convince yourself, that magnificent results may go hand in hand with cheap costs. Croydon Cleaners London is proud to support budget-friendly price policy, so every customer may afford our Croydon painting services without concerns.
Contact us on and have a nice chat with our responsive and kind customer care representatives! They will give you detailed information about our Croydon interior painting.